Key data
| | | | | | | | | | | | |
| --- | --- | --- | --- | --- | --- | --- | --- | --- | --- | --- | --- |
|   | USD/CHF | EUR/CHF | SMI | EURO STOXX 50 | DAX 30 | CAC 40 | FTSE 100 | S&P 500 | NASDAQ | NIKKEI | MSCI Emerging Markets |
| Latest | 0.96 | 0.96 | 10'900.24 | 3'570.04 | 13'088.21 | 6'212.33 | 7'351.07 | 4'067.36 | 12'112.31 | 28'214.75 | 970.29 |
| Trend |   |   |   |   |   |   |   |   |   |   |   |
| YTD | 5.27% | -7.01% | -15.34% | -16.95% | -17.61% | -13.15% | -0.45% | -14.66% | -22.58% | -2.00% | -21.24% |
(values from the Friday preceding publication)
Risk-on mood reappears
Equity indices all ended up strongly on Friday last week, with the three major US indices each putting an end to a three-week losing streak as the dollar pulled back from recent highs and investors were left unfazed by the Fed's third 75bp rate hike.
The US dollar, which peaked at the beginning of last week, subsequently fell back for three consecutive days as a result of the rate hike in Europe and a renewed appetite for risk among investors. In the bond market, the benchmark 10-year yield ebbed to 3.32% while the 2-year yield edged up by 5bp to 3.55% – still indicative of a recession in the US. However, such a recession is not yet showing up in the various statistics measuring the country's economic activity. Instead, the release of the Fed's Beige Book points to solid industrial production, with capital spending and retail sales both rising. Services also continue to grow.
The major event last week was the ECB's decision to raise its benchmark policy rate by 75bp to accelerate the pace of monetary tightening. The deposit rate was thereby increased from 0 in July to 0.75%. Caught up in the inflation spike caused by the energy crisis that Europe is enduring in retaliation for sanctions against Russia, Lagarde and her chums had no choice but to follow in the footsteps of their counterparts across the Atlantic. Further increases are expected, with the aim of encouraging savings and cramping consumer spending and thereby easing the pressure on prices. With the prospect of further 75bp increases in the coming months, the euro has strengthened against the dollar to back above parity (1.01). GDP growth in Euroland has been revised downwards but remains at 3.1% for this year. It is expected to slow to 0.9% next year.
The Chinese Communist Party Congress is due to begin on 16 October to redefine the zero-covid policy and sketch out possible new support measures for the slowing economy. Inflation unexpectedly decelerated in August to 2.5%, down from 2.7% in July, giving the Chinese authorities leeway to support their economy. This slowdown in prices is mainly due to sporadic lockdowns resulting from the strict zero-covid policy, which has similarly reduced spending. This gathering could inject some zest into markets – and especially into the Chinese economy, hit by the property crisis for the past year and which is now spreading to all the country's business sectors as well as undermining the confidence of various economic agents.
This week all eyes will be on the economic data, especially US inflation, which is expected to ebb to 8.1%. If that happens, it could give the market another shot in the arm.
Swissquote
Swissquote Group is the Swiss leader in financial services and online securities trading, employing over 1,000 people worldwide. Some 70% of its revenues stem from transactions (brokerage, currency spreads, etc.). The rest is made up of custody services (depositary and account management). The company processed almost 3.2 million trades in the first half of 2022 with an average transaction value of CHF 24,835. Client assets stood at CHF 55.9 billion.
As well as holding a banking licence, Swissquote is a pioneer in online financial services, including innovations that have attracted younger generations to the investment industry. For example, investors can create portfolios with the help of an AI advisor and determine their ESG ratings. One of its recent projects, launched in partnership with PostFinance, is a digital application for younger generations, YUH, which today has 75,000 accounts and CHF 281 million in client assets. Swissquote has also been active in cryptocurrencies for several years and launched a new cryptocurrency platform in the current quarter.
Swissquote has been listed on the Swiss Stock Exchange since 29 May 2000 and is headquartered in Gland (Vaud), with offices in Zurich, Bern, London, Luxembourg, Bucharest, Malta, Dubai, Hong Kong and Singapore. Market capitalisation is CHF 1.6 billion. The group is gradually expanding abroad. Net new money continues to rise (CHF 9.6 billion in 2021).
Its share price often tends to move in line with the Bitcoin price, which is not justified as the contribution of crypto assets to the group's revenues remains small at only 10% of revenues in H1 2022.
Swissquote has achieved significant growth and boasts cutting-edge technology and strong innovation capabilities as well as a cross-border growth strategy. We think that, at around 10x earnings, the stock in undervalued.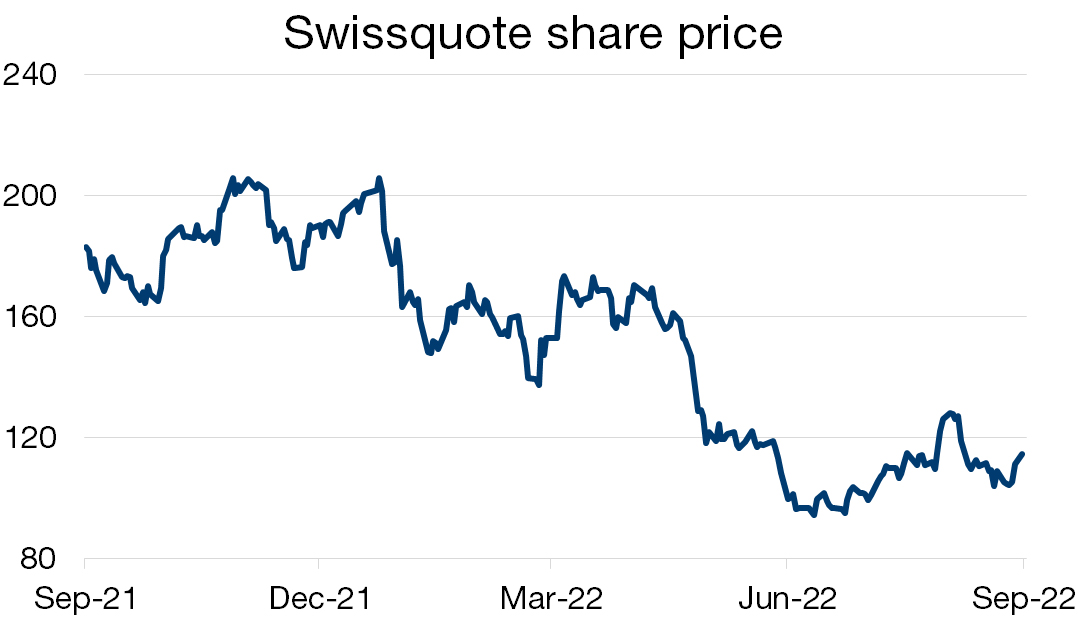 This document is provided for your information only. It has been compiledfrom information collected from sources believed to be reliable and up to date, with no warranty as to its accuracy or completeness.By their very nature, markets and financial products are subject to the risk of substantial losses which may be incompatible with your risk tolerance.Any past performance that may be reflected in this documentis not a reliable indicator of future results.Nothing contained in this document should be construed as professional or investment advice. This document is not an offer to you to sell or a solicitation of an offer to buy any securities or any other financial product of any nature, and the Bank assumes no liability whatsoever in respect of this document.The Bank reserves the right, where necessary, to depart from the opinions expressed in this document, particularly in connection with the management of its clients' mandates and the management of certain collective investments.The Bank is a Swiss bank subject to regulation and supervision by the Swiss Financial Market Supervisory Authority (FINMA).It is not authorised or supervised by any foreign regulator.Consequently, the publication of this document outside Switzerland, and the sale of certain products to investors resident or domiciled outside Switzerland may be subject to restrictions or prohibitions under foreign law.It is your responsibility to seek information regarding your status in this respect and to comply with all applicable laws and regulations.We strongly advise you to seek independentlegal and financial advice from qualified professional advisers before taking any decision based on the contents of this publication.