Key data
| | | | | | | | | | | | |
| --- | --- | --- | --- | --- | --- | --- | --- | --- | --- | --- | --- |
|   | USD/CHF | EUR/CHF | SMI | EURO STOXX 50 | DAX 30 | CAC 40 | FTSE 100 | S&P 500 | NASDAQ | NIKKEI | MSCI Emerging Markets |
| Latest | 0.96 | 0.97 | 10'617.01 | 3'499.49 | 12'803.24 | 6'061.59 | 7'236.68 | 3'899.89 | 11'535.02 | 27'567.65 | 938.53 |
| Trend |   |   |   |   |   |   |   |   |   |   |   |
| YTD | 5.75% | -6.79% | -17.54% | -18.59% | -19.40% | -15.26% | -2.00% | -18.18% | -26.27% | -4.25% | -23.82% |
(values from the Friday preceding publication)
Inflation tops estimates
Markets fell back sharply last week following the release of higher-than-expected inflation figures, more or less retracing the sharp rally lasting until mid-August – which had been fuelled by expectations of slower rate hikes in the US. Global financial markets also saw a widespread appreciation in bond yields, reacting to an inflation trajectory out of whack with investors' expectations.
The dollar was stable. Latest US statistics showed inflation at 6.3% for August compared with the expected 6.1%. Amid continuing tense macroeconomic conditions, producer prices shot up by 7.3% year on year, exceeding the forecast 7%. Retail sales also surprised on the positive side, rising by 0.3% whereas a 0.1% dip had been expected.
US job figures for the week ending 9 September looked strong, with only 213,000 new claimants versus the 227,000 expected.
Amid the shift to a risk-off posture, the S&P 500 gave up 4.325% during the week, while the tech-heavy Nasdaq, more sensitive to interest rate expectations, shed 5.34%.
In bond markets, the US 10-year yield rose back to the mid-June high of 3.45%. The 2/10-year spread widened to -45 basis points, reflecting a 2-year rate at 3.95%.
In Europe, the easing of gas and oil prices was read as good news. However, the region is still undermined by the energy shortage, which is stoking fears of an economic slowdown and continuing to spoil market sentiment. The Stoxx 600 is trading at a discount exceeding 30% to the S&P 500.
The Fed is expected to announce a further three-quarter-point rate hike on Wednesday as it seeks to curb inflation. Remarks from the central bank's chief are again likely to move the markets.
LVMH
LVMH is the world leader in luxury goods, offering a broad portfolio of 75 brands including Louis Vuitton, Christian Dior, Bulgari, Tiffany and Moet & Chandon.
This family-owned juggernaut has the most diversified portfolio by business segment (fashion/clothing, perfume, watches & jewellery, wines & spirits, selective retailing) and national markets. The management team is recognised for its operational prowess. The Louis Vuitton and Christian Dior brands are currently enjoying strong momentum and this is lifting the group's margins.
The emerging Asian middle class and their taste for luxury is an important catalyst powering the group's growth momentum.
Additionally, the selective retailing and perfumes & cosmetics wings are set to gain from the post-pandemic rebound.
The takeover of Tiffany in early 2021 and the strategic repositioning of this unit offer significant potential for operational gains.
The group has a solid growth record, a gold-plated brand portfolio and trustworthy management. The stock looks slightly undervalued, based on a P/E of 21x versus an average of 26x.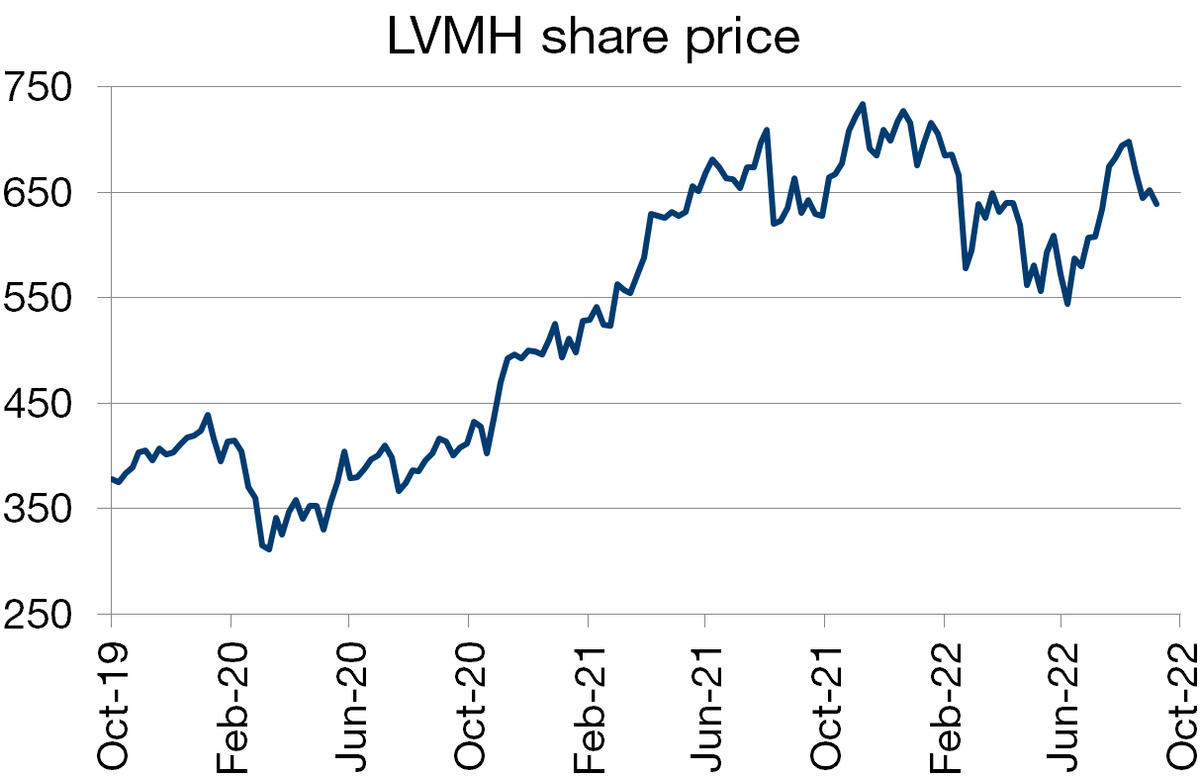 This document is provided for your information only. It has been compiledfrom information collected from sources believed to be reliable and up to date, with no warranty as to its accuracy or completeness.By their very nature, markets and financial products are subject to the risk of substantial losses which may be incompatible with your risk tolerance.Any past performance that may be reflected in this documentis not a reliable indicator of future results.Nothing contained in this document should be construed as professional or investment advice. This document is not an offer to you to sell or a solicitation of an offer to buy any securities or any other financial product of any nature, and the Bank assumes no liability whatsoever in respect of this document.The Bank reserves the right, where necessary, to depart from the opinions expressed in this document, particularly in connection with the management of its clients' mandates and the management of certain collective investments.The Bank is a Swiss bank subject to regulation and supervision by the Swiss Financial Market Supervisory Authority (FINMA).It is not authorised or supervised by any foreign regulator.Consequently, the publication of this document outside Switzerland, and the sale of certain products to investors resident or domiciled outside Switzerland may be subject to restrictions or prohibitions under foreign law.It is your responsibility to seek information regarding your status in this respect and to comply with all applicable laws and regulations.We strongly advise you to seek independentlegal and financial advice from qualified professional advisers before taking any decision based on the contents of this publication.